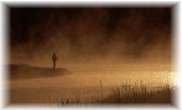 Gogama, Gowganda and Elk Lake
Ontario Fishing Outfitters & Lodges
---
Thunderstock Outfitters - Thunderstock Outfitters on Kenogaming Lake will stir your heart with memories of scenic wilderness discoveries, wildlife encounters and dawn to dusk fishing! Located in one of Northern Ontario's finest fishing areas along with Moose & Bear hunting, we provide affordable Housekeeping Plan vacations. Kenogaming Lake is 14 kms (9 miles) long and offers an abundance of Walleye & Northern Pike fishing, with access to over 10 more remote lakes promoting Trophy Smallmouth Bass, Brook, Rainbow and Lake Trout fishing. Our secluded location is the only lodge on the lake and in the entire area, which allows our fishing and hunting adventures to be undisturbed. Join us for A True Wilderness Experience !
Lookout Point Camp A destination where broad smiles and fun-filled memories are here for the taking. A pristine gem in the north, we offer a wilderness surrounding, yet with an attention to detail that comes from a trusted "hands-on" approach. We are proud to offer first-rate fishing opportunities. Take your pick of the tasty walleye, feisty northern pike, lake trout, acrobatic smallmouth or the roaming whitefish and perch. From fishing and hunting to hiking and canoeing, Lookout Point Camp is pleased to offer a vacation package that is sure to meet each and every one of your needs. Come and see what you've been missing in a retreat! You'll be glad you did.
Argyle Lake Lodge Experience our wilderness! Offering a great location for family vacations, Moose, Bear and Grouse hunting, excellent fishing for northern pike, walleye, small mouth bass, and perch. With access to hundreds of miles of ATV trails. We offer fully equipped housekeeping cottages, Boat and motor rentals, Canoe rentals, Gas and Bait. Located near Matachewan.
Twin J Hide-A-Way Here at Twin j Hide-A-way located on Mattagami lake in Gogama Ontario. We offer a Varity of services starting with fishing whether it be Bass, Walleye, northern Pike ,or Jumbo perch our lake has them all. There are also many trout lakes in the area that can be accessed through driving or portage. For the Bear hunter we offer both housekeeping or American plans we have a bear area that is very secluded and yields a great amount of black bear that very in size. We cater to both Bow and rifle hunters and plan our hunts to suit your needs. At Twin j we also have bird and moose hunting in the area as well as most water fowl. For those that like to be alone in the wilderness we have a remote outpost camp that has all the comforts of home except for people so you can truly experience nature at it's best.
Spruce Shilling Camp It's that perfect day, light breeze and the fish are biting. You must be in Shining Tree. Yes, our lakes boast quite a variety; Walleye, Trout and Northern Pike just to name a few. Our Fishing Packages help you fulfill those anglers' dreams. Maybe that big one is waiting for you in Shining Tree, at Spruce Shilling Camp.
Kesagami Wilderness Lodge Ontario, Canada fly-in fishing, 4-star wilderness fly-in lodge & 20 fly-in outpost fishing camps, 1000 trophy pike each season, top Canadian walleye fishing resort, Canadian fishing record catch & release pike caught here, Kesagami Lake, top Ontario fishing & hunting outfitter, wilderness protected zone, exclusive access, Ontario fly-in moose hunting, Canada trophy moose hunt.
Bay Wolf Camp A hunting & fishing lodge in northern Ontario's wilderness. Hunt black bear, grouse, hares, ducks, and geese. Fish for walleye, northern pike, smallmouth bass or trout.
Twin Bear Camp Resort On the Montreal River 29 miles west of New Liskeard, Ontario. 7 housekeeping cottages fully equipped with a 3 pc bath, electric heat. Campsites, 15 hp motors with 14 ½ foot aluminum boats, launch and dockage. Fish northern pike, walleye, bass, perch, lake trout and whitefish in nearby lakes. Hunting package, bear, moose, birds and small game. Ice fishing, cross country skiing and close to an 18 hole golf course. Modified meal package available, licenses, fuel, bait and store on site.
Shining Tree Tourist Camp is well known as the place to go for a complete variety of fishing and hunting opportunities to suit everyone's tastes. We will treat you as friend from the minute you arrive and do our best to help you get away from the turmoil of everyday life.
Golden Eagle Camp - Golden Eagle Camp - Great Northern Pike, Walleye, Smallmouth Bass and other pan fish fishing in the famous Montreal River system. Many remote lakes to plan your daily fishing adventures. Complete packages available with meal plan, boat & motor all equipment, bait and ice included.
Frontier Lodge - At Frontier Lodge our aim is to help you create a memory that will last a lifetime, whether it be a family vacation, hunting or fishing holiday, sledding, ice fishing or just a couple of days to get away and relax.
Long Point Lodge - Elk Lake. Your time can be spent swimming on our sandy beach, canoeing, water-skiing and paddle boating. Hiking in the woods can provide hours of fun with activities such as rock hunting, and picking blueberries and raspberries. Other activities around the camp include volleyball, horseshoes, badminton and a children's playground. There's a recreation hall with a T.V., pool table, shuffleboard and ping pong. Of course the main activities are fishing and hunting
Grey Owl Camps Located on the shores of beautiful Biscotasi Lake in Northern Ontario. Our operation is delightfully different. Drive-in, then boat-out, to one of seven , separate outpost cabins, each in its own private location situated miles apart from one another. We have great fishing. Biscotasi Lake is a prime Walleye lake where Northern Pike, Perch and Whitefish also abound.
Green Wilderness Lodge Welcome to beautiful Lake Mattagami. The remote setting is the ideal place for that special fishing or hunting experience, or a relaxing family vacation. Enjoy the breathtaking scenery as you travel 40 miles of open waterways which abound with Northern Pike, Walleye, Whitefish, Perch and Smallmouth Bass.
Ontario Hunting Vacations - Ontario Fishing Outfitters - Snowmobiling - EcoTourism
Canoe Trip Outfitters - Fly-In Hunting and Fishing Outposts - Biscotasing
---