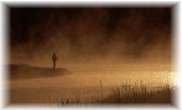 Ontario Fishing
Manitoulin Island - Espanola- Spanish
Outfitters & Lodges
Charlton Lake Camp The lush green forests, the backdrop of the majestic La Cloche mountains, and right in the center, a beautiful calm and quiet lake to go fishing. Come out to Charlton Lake Camp and smell the roses.
Brennan Harbour Resort Fish the Whalesback Channel and its many islands for great northern pike and small-mouth bass action. One mile east of camp is the Spanish River and its famous walleye fishery. A mile to the south of the camp, the Whalesback empties into the North Channel where deep, clear blue waters hold perch, lake trout and salmon. Or, why not head inland to numerous smaller, secluded back lakes where we have boats cached for multi-species angling.
Lang Lake Resort Come Explore the natural beauty of Lang lake resort. Summer or winter we have something for everybody. Our lakeside cabins feature all furnishings and beds with linens, blankets and pillows supplied. Bathrooms are fully modern with hot and cold running water year_round and a full kitchen. Some cabins have indoor fire places and all have a personal dock. Our resort offers both housekeeping or American plan. You can fish our main lake system for trout, walleye, pike, small and largemouth bass. For the more adventurous fisherman, our resort offers quiet back-lake retreats, where northern pike and largemouth bass never seem to stop biting. We have many summer activities such as hiking, swimming and snorkelling in the sparkling-clean water of Lang Lake or relaxing in the hot tub and in the winter you can enjoy snowmobiling ice fishing and lots more. Bring your camera to capture this area's natural beauty.
Waterfalls Lodge Fantastic Food + superb accommodations + spectacular scenery + super hospitality + fabulous fishing = A GREAT VACATION. We are known for Trophy Smallmouth Bass and Walleye. We were selected as one of North America's top 12 Walleye hotspots by Walleye Insider.
---
Ontario Hunting Vacations - Ontario Fishing Outfitters - Snowmobiling - EcoTourism
Canoe Trip Outfitters - Fly-In Hunting and Fishing Outposts
Wawa Fishing - Chapleau Fishing
---