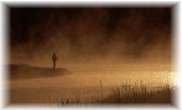 Marten River and area
Ontario Fishing Outfitters & Lodges

---
Okimot Lodge Come to the peaceful shores of Tomiko Lake where Okimot Lodge was established 60 years ago. We are located 40 miles north west of North Bay. Tomiko is a good sized lake with an average depth of 30 feet and fishing is great for walleye and smallmouth especially in the spring and late fall. Our 14' aluminum boats with up to date Johnson motors and padded swivel seats will also take you to two adjoining lakes. One is sheltered and provides excellent fishing for largemouth. Tomiko's north shore is almost completely unoccupied land ensuring minimal boat traffic. The many logging trails around the lake invite you to explore the beauty of Northern Ontario by ATV or mountain bike. Wildlife and bird viewing is possible from existing tree stands. Other activities like golfing, horse-back-riding, shopping or a visit to the museum are all available in the West Nipissing area.
Olive the Lake The atmosphere at Olive the Lake is private and relaxing, with the best Walleye, Bass, and Pike Fishing in Marten River, Ontario. Our Cottages offer the comforts of home, breathtaking views, and Tempur-Pedic Mattresses. Being the ONLY resort on a 9 mile lake, we offer a great night's sleep and comfortable experience. Make Olive the Lake your cottage destination!
Marten River Lodge is located in Ontario's picturesque near north, 1/2 an hour north of North Bay and at the southern edge of the Temagami old growth forest. We are the perfect spot for your fishing or hunting expedition and we're great for just plain family fun and relaxation. The kids will have plenty to do on our tennis/sports court and our beach. The optional American Plan will make your vacation complete. You will also enjoy fishing from our 16' bass boats with 25hp. electric start motors. Back Lake fishing with our excellent experienced guides is our specialty.
Island Lake Camp When you arrive you will find 8 well appointed, pine decorated cottages encircling a quiet bay Island Lake (Thistle Lake), part of the Temagami Waterway System. After you have settled in, let us take you on a tour of beautiful Island Lake. We will point out the best fishing spots and recommend tackle and technique. Secluded sandy beaches, waterfalls and our own hidden bay will beckon you. Back at camp, relax at the water's edge and view the glorious sunsets from your screened-in porch. When the evening turns cold, gather around the woodstove, enjoy a game of cards or open a good book.
Mountain Home Lodge offers easily reached fishing and hunting vacations which can be enjoyed by everyone. Good walleye, northern pike, and smallmouth bass fishing; bear hunting in the spring and fall; exciting moose, ruffed grouse and duck hunting in season. Comfortable, fully furnished, heated cottages; including microwaves and propane barbeques, fully equipped aluminium boast; canoes, a safe and private sandy beach; outdoor games, central lounge with VCR and movies and games for the children and a library. Great home cooked meals served country style in our dining room.
Temagami Riverside Lodge now third generation family owned and operated, boasts 2 separate and unique locations to choose from. Our South Camp, located 1 km off Hwy.64, is nestled on the edge of Red Cedar Lake with easy access to all the area attractions, while our North Camp, located 7 mi. by water is located at the mouth of the Temagami River where it meets Red Cedar Lake and offers a more remote seclusion.
Lake Herridge Lodge A mere 54 miles north of North Bay is Lake Herridge Lodge, a fishing and hunting camp set in the scenic tranquility of the Temagami Wilderness Forest. We fish Herridge Lake plus a chain of remote lakes accessible by short portages, the lakes are remote wilderness lakes without road access or cottages on them. We offer American Plan and Housekeeping Packages.
---
Ontario Hunting Vacations - Ontario Fishing Outfitters - Snowmobiling - EcoTourism
Canoe Trip Outfitters - Fly-In Hunting and Fishing Outposts - Red Cedar Lake
---